Information for Tourists
We can't replace a proper tourist guide on these pages but we'll try to list a few ideas and useful information for our international guests in case you want to extend your stay and explore the area.
Karlsruhe is situated in the Upper Rhine Plain, in one of the warmest regions of Germany. Karlsruhe is home to the highest German court, the Bundesverfassungsgericht, and we also have a nice Palace and the renowned ZKM, a museum for art and media technology.
There are a couple of worthwhile destinations nearby. There's the Black Forest which begins just South of Karlsruhe and has something for everyone; there's Rhineland-Palatinate and the Palatinate Forest to the West of Karlsruhe providing occasion for several activities, including hiking and biking trips, and there's the French region of Alsace to the South-West, with a couple of medieval towns worth a visit, including Wissembourg (about 40 km west), Haguenau (about 70 km south-west of Karlsruhe), Strasbourg (about 90 km south-west of Karlsruhe), and Colmar. Alsace is also a popular dining destination because of their renowned Flammekueche. Nearby German cities of interest include Heidelberg and Stuttgart, both reachable in under an hour.
Map
Trip Ideas
Here are some ideas for day (or half-day) trips that you can take while based in Karlsruhe. For details on public transport, see the bottom of the page.
Bad Herrenalb
The way to the spa town of Bad Herrenalb leads through the lovely Alb valley. By train, grab the S1 either in front of Karlsruhe main station or at Albtalbahnhof, using a "Regiosolo" or "Regioplus" ticket. By bike, there are two ways on either side of the river, so you can choose one for uphill and the other one for downhill. The train stops frequently, so you can also combine the train with hiking or biking.
Rastatt
Rastatt is a nice baroque town. A lot of trains go there ("Regiosolo" or "Regioplus" ticket), or you can go by bike, or combine both.
Baden-Baden
Visited by the famous and the wealthy but a nice place for ordinary people as well. Has a couple of castle ruins that you can explore, as well as the "Frieder Burda" art museum and the Caracalla thermal bath. Reachable by KVV ("Regiosolo" or "Regioplus" ticket).
From Forbach (Black Forest) via Rote Lache to Baden-Baden
Hiking: After leaving Forbach, a gate at the right hand side of the street leads to the Ziegenpfad. You are passing the valley following a path along a small stream. Take care about the goats :) . After leaving Bermersbach, a graveled track on the left hand side leads to Rote Lache, a pass at 700 meters of altitude, with a Hotel, a restaurant and a biergarten. From there a path leads to the Scherrhof. Then follow the paved way down to Baden-Baden. Since the station is sited on the other side of Baden-Baden, grab a bus to get there. Take a RE or IRE to get back to Karlsruhe.
By bike: With a MTB, choose the road from Forbach to Bermersbach. The rest of the trip is the same as the hiking trip. With other bikes, optionally follow the road from Forbach via Bermersbach to Rote Lache. Though there is little traffic, you will meet some buses and lorries during working days. On sundays, motor bikes can make it a less joyful trip. The best day for the road instead of the track to Rote Lache is Saturday.
You can get to Forbach using KVV line S 41 (slower) in front of Karlsruhe main station or at Albtalbahnhof, or line S 31 (faster) at Karlsruhe main station. Buy a "Regiosolo" or "Regioplus" ticket.

Baiersbronn
Baiersbronn is a hiking center. A lot of people go there to enjoy the surroundings. Additionally there are a couple of good restaurants, like the Hotel Rosengarten.
If you bring a bike, leave the train at Baiersbronn Bahnhof. Pass Hotel Rosengarten to climb the valley and enjoy the view up to Obertal. Optionally go to Buhlbach and back to enjoy fresh trout for lunch. Follow the gravelled track to the Ruhestein pass which invites to a short rest. Follow the street to the Kernhof. From there choose the gravelled track to the paved Bosenstein road. Follow the Bromberg road to Ottenhöfen. Optionally enjoy black forest cake at the Hotel Stern. Via Furschenbach and Kappelrodeck you will reach the station in Achern where you can choose a Regional Express RE or Inter Regio Express IRE to get back to Karlsruhe.
You can get to Baiersbronn using KVV line S 41 (slower) in front of Karlsruhe main station or at Albtalbahnhof, or line S 31 (faster) at Karlsruhe main station. Buy a "RegioXsolo" or "RegioXplus" ticket. (Note: Your RegioX-ticket is not valid for the train from Ottenhöfen to Achern. If you want to use it, you need to pay for it separately.)
Tour de Murg from Freudenstadt
The Tour de Murg is a nice biking trip easy to master. Most parts follow paved or gravelled downhill tracks. The track is marked by signposts and ends in Rastatt. Since the KVV trains follow the Murg valley as well, you can end the trip at any of the numerous halts along the trip.
You can get to Freudenstadt using KVV line S 41 (slower) in front of Karlsruhe main station or at Albtalbahnhof, or line S 31 (faster) at Karlsruhe main station. Buy a "RegioXsolo" or "RegioXplus" ticket.
Through the Black Forest by train
You can go by train from Karlsruhe via Offenburg to Constance. From Karlsruhe to Offenburg you're following the Rhine valley, and then the train crosses the Black Forest, including several tunnels a famous couple of bends near Triberg (map). The ascent is about 650 metres. Wikipedia has a height profile and details.
There are hourly direct trains from Karlsruhe; to St. Georgen, the highest point and just after the bendy bits, the trip takes about 1:45. Standard one-way fare to St. Georgen is 28 EUR, but you can use the "Baden Württemberg Ticket" day pass for 23 EUR. To Constance, the travel time is about 3:10, and you can also use the day pass.
Maulbronn
The Maulbronn monastery is a well known touristic destination. Getting there by public transport requires combining train and bus.
Trifels Castle
Within an hour you can get to Annweiler am Trifels by train, and from there make your way to the famous Trifels Castle where once Richard I of England was imprisoned.
Wissembourg
Wissembourg is a small medieval town at the french-german border. Deutsche Bahn trains (Regionalbahn RB) leave each hour at both Karlsruhe and Wissembourg station. In either direction, leave the train in Winden and enter the one at the other side of the platform. Bike transport is not a problem except for days when the trains are crowded. You need a "Regiosolo" or "Regioplus" ticket.
By bike, there are a couple of possible routes. Usually you will grab the ferry in Neuburgweiher. Via Berg and Neulauterburg you will reach Scheibenhardt. From there either head to Bienwaldmühle (nice Biergarten), then leave the road after a couple of meters and follow the gravelled track to the Schweighofen station, cross the rails and turn to the left immediately after the crossing. Cross the main road in Altenstadt and follow the »Avenue de Général de Gaulle«, or cross the border via the bridge over the Lauter, head right (»Rue de la 6ième compagnie«), cross the main road and enter the paved cycleway when reaching the 2nd main road. Follow this former railway even through the villages. At its end near the hippodrome follow the main road. After the railway crossing head to the right and follow the street of the industrial area to get to Wissembourg station.
Hiking to Fleckenstein Castle
At the station in Wissembourg, buses provide transport to Fleckenstein castle. The bus transfer is not covered by your KVV ticket, you need to pay for it separately. (The woods there are full of further medieval castle ruins, like the Loewenstein, the Blumenstein and others. While the Fleckenstein is a well known touristic attraction, the other ruins provide less remains and are great destinations for hiking trips through the woods.
Bike trip to Wasigenstein Castle
This trip requires at least a robust trekking bike. At Wissembourg station, leave to Bobenthal via Weiler and Sankt Germanshof, following the Lauter valley. Then head to Nothweiler (restaurants), Schönau (restaurants), Wengelsbach (restaurants) and Wasigenstein. Follow the street to Niedersteinbach and Lembach. Go 9 km uphill to Climbach and the pass »Col de pigeonnier« (about 100 minutes). Go downhill to Wissembourg station (about 20 minutes).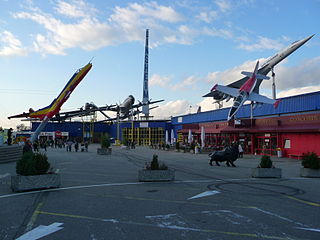 Museums
The town of Germersheim has Germany's only Road Museum, and the towns of Speyer and Sinsheim have twinned technology museums with all kinds of vehicles and machines (among other things, Speyer has a Tupolev TU-144 and Sinsheim has a Concorde). All three museums are reachable in under an hour from Karlsruhe.
There are also three museums for automated musical instruments. The technology museum in Speyer has a building ("Wilhelmsbau") dedicated to them, and there's also the German musical automaton museum in Bruchsal and a small exhibition at Schloss Ettlingen. The latter two have guided tours.
Public Transport
German Rail ("DB") have a good trip planner and also apps for mobile phones. Tickets can be bought through the web site and printed, or bought trough a mobile app in which case the app becomes the ticket. Tickets are also available from vending machines and counters at the railway stations. If you buy a ticket online, you will have to choose a form of identification - for foreign users, this will likely be their credit card used for payment - and the ticket is then bound to that ID which you must carry when travelling, else your ticket is invalid.
The standard fare ("Normalpreis") for a connection depends on which types of trains you use for which legs, but is otherwise constant - it doesn't depend on when you buy the ticket or if you take the morning or afternoon train.
A limited number of seats are usually sold as "saver fares" (Sparpreis), starting from as low as 19 EUR even for longer-distance routes. They can be bought up to three months and no later than three days in advance and they are valid for a specific connection only.
There are two types of day passes that allow one day of travel on regional and local trains (IRE, RE, RB, and S-Bahn trains). One is the "Quer durchs Land" ticket, valid in all of Germany from 9am to 3am the following night. It costs EUR 44, plus EUR 8 for each additional traveller up to a group of 5. The other is the "Baden-Württemberg Ticket" which allows the same just limited to the area of Baden-Württemberg () and costs EUR 23 plus EUR 4 for each additional traveller. Both these day passes can be bought online or from vending machines. Both are also valid on all trams and most buses in Baden-Württemberg.
In addition to the German Rail tickets mentioned above, you can also buy tickets from KVV (Karlsruher Verkehrsverbund), the regional traffic authority. These tickets are valid inside the KVV tariff area only (the green and yellow hexagons on this plan) and can be used on buses, trams, and even the regional trains of Deutsche Bahn. KVV tickets are sold at vending machines and at their staffed booths in front of the main station, at the K. pavilion, and the office at the Marktplatz.
You are allowed to carry one bike per person on all KVV vehicles, free of charge, except on working days before 9 am. If the vehicle is crowded then staff can deny entry to passengers with bikes. If you have a German Rail ticket then you may have to buy an extra bicycle ticket for EUR 5.00 depending on where you go. Bicycle transportation is limited on long-distance trains.
KVV have single-trip tickets as well as day tickets which are valid from the time you stamp it to 3am the next calendar day. The "Citysolo" day ticket is valid for one person within the city of Karlsruhe and costs EUR 6; the "Cityplus" is valid for up to five persons and costs EUR 9.50. Then there are "Regiosolo" and "Regio plus" which do the same but cover the whole KVV area (EUR 10.50 and 18.00 respectively), and then the "RegioXsolo" and "RegioXplus" which additionally cover nearby areas (blue hexagons in the diagram linked earlier) and cost EUR 16.50 and EUR 27.00 respectively.
Bicycle Rental
New: The "nextbike" city bike franchise now operates in Karlsruhe under the name "Fächerrad". After registering with them (which takes €9 from your account), you can unlock any of their bikes using a smartphone app or phone call, and use it for €1 for every half hour. If you are already registered with nextbike in another city, your account is valid here also. See www.faecherrad.de for details.
The KVV has city and MTB bikes for rent at the K. pavilion, and Hotel Eden also has bikes available. For short trips, city-bike franchise Nextbike is planning to go live in Karlsruhe any time now but they aren't quite there yet.